Discover a new way of experiencing quality control.
The secret recipe behind the leading 43% PM sintering companies.
---
Are you a sintered parts manufacturer? Are you dissatisfied with the complaints you receive about the quality of the parts you supply?
You are in the right place! Take a few minutes to read this article and learn about a new way of experiencing quality control.

Quality Control. A beautiful concept… isn't it? The moment when you check the sintered parts that go directly into the hands of your customers. A special time, abruptly ruined by the countless complaints that follow. And you feel you don't have any control over it, right?
We are in a booming, yet economical sector, where you own amazing advantages, but intensified quality control looks like a mirage.



DOWNLOAD E-BOOK DOWNLOAD CATALOGUE



Researches show that a growing number of people are searching for a way of guaranteeing quality.
A significant number of firm owners that have decided to embrace Optical Measuring Systems, qualifying their businesses as leading players of the PM Sintering industry.
They were all concerned about their manually measuring method. Tested for decades by their fathers, handed down from generations, so they felt uncomfortable about switching to other options. Just like you.

That's why we want show you a way to escape from this, as smoothly as possible.
Yes there is a way out of it and here are the 5 key benefits that our Optical Measuring System can offer you:




1. Speed and accuracy at the same time


Countless suppliers rely on "by-hand measurement" in the quality control process.
Optical Measuring Systems allows you to automatically detect the dimensions of the parts in a few seconds, without any need to fasten it.
Just place the part on the level and press "START".



This means more accuracy, speed and reliability.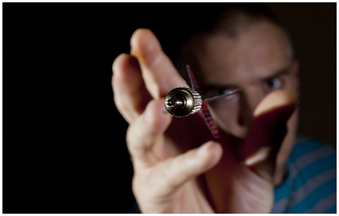 2. Bringing waste level to zero


Optical measuring systems give you an instant control report, by tracking it statistically.
Softwares of the automotive, aerospatial and medical sectors are completely compatible with this kind of output.

Moreover, speed and accuracy bring your attention to scrap parts in advance and give you the opportunity to intervene directly on the process improvement without any downtime in production.








3. Using the machine intuitively


Optical Measuring Systems were born in the smartphone-era. Where simple solutions are projected on the screen. But don't worry! This means more intuitive usage, not complexity.
How does it work? You just put the part you want to measure on the detection area, and in 5 seconds you'll find it, already measured, on the screen. But then you think "I want to adjust it…". No problem!

Unlike generic products, Optical Measuring Machines have a tool for sintered pieces. From the software for gear parts, to the

hardware with customized light to accurately capture the most subtle details in just a few click.










4. Being flexible


An Optical Measuring System is so flexible that you can place it directly on your shop floor! What does this mean?
You are quick
You are accurate
You do not stop production
And your shop floor staff can use it directly!

Your processes will be controlled easily and your production improved, guaranteeing you good results at the end of the day.




5. Experiencing quality control in a novel way
Ok, and now? Well… What if you could experience all of this, for free?


This is Metrios. A machine developed to assist production:


From measuring prototypes, to real-time measurement directly in production.
To setting CNC machines when reworking and to guarantee to your customers that the delivered batch is 100% compliant.
To transform dimensional control from manual to digital and reduce measurement times.
Track quality and increase competitiveness in the market.


At Metrios we offer you the opportunity to try a customized demo, you decide how long it will last and what you will see. You can ask questions and guide the simulation.
To learn more, download the e-book "How Metrology Can Help the Sintering Process" or download our Metrios catalog.
DOWNLOAD E-BOOK
DOWNLOAD CATALOGUE